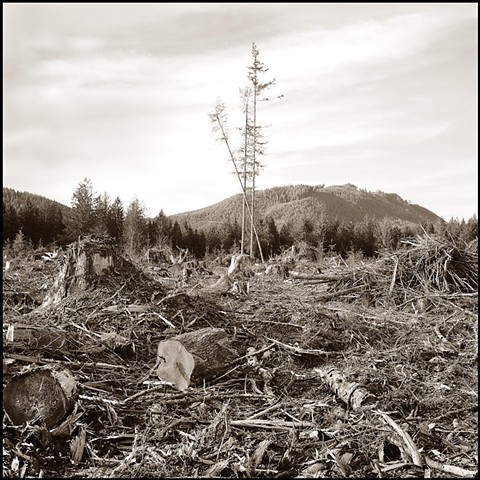 For past few years I've focused my artistic to attention to the extraction industry of forest clear cutting in the Pacific Northwest of the United States. Upon seeing the first clear cut while hiking, I felt an urgent need to use my creative/art practice to respond to what I fell is an assault on the environment. I began using a classic photographic approach to create images of clear cuts and slag piles, with the desire to share what I witness.
Some of the multi-image pieces have words/poetry hand-cut from the prints. These words and the technique confront the anthropocentric practice of forest clear cutting by the hand-cutting of the words to create a negative space in the images.
All the photographs, taken with a 120 medium-format film camera, are Platinum/Palladium prints that are contact printed with a negative produced through a hybrid process printed digitally. some larger scale prints are archival pigment prints.
Recent works have been shown at Center for Photographic Art in Carmel, The Deyoung Museum in SanFrancisco and Patricia Sweetow Gallery/SpunSmoke.
Tony grew up in the Bay Area of California where he was somewhat indifferent to the typical high school sports hero. Riding his bike, taking photos and hiking with like-minded friends were more his norms. in 1985-86 he was a darkroom assistant at the Ansel Adams works shops in Yosemite for Charles Crammer who taught Cibachrome printing and Dye Transfer printing. After undergraduate school San Jose State University, he went to the San Francisco Art Institute for graduate school. While in graduate school Tony expanded his vision of Art focusing on works that incorporated photographic elements using alternative photographic processes. Since graduating from SFAI his artwork has been exhibited at Yerba Buena Center for the Arts, DeYoung Museum of San Francisco, and has had work shown by Patricia Sweetow Gallery and Seager/Gray gallery in California, and Steffany Martz gallery in Chelsea NYC. Him and his partner Mary live and make their art in Oakland working also collaboratively as Quite Contrary Press with their border collie Luna. See more at Tonybellaver.com
by
Kerri Hurtado
Curator, Art Source Inc.